A few weeks ago, my wife picked up a book called The Written Suburb at a Greenwich Village used bookshop about Chadds Ford, Pennsylvania, and how it was an invented, postmodern place, designed to become a mythological homeland of the American realist movement.
As the area was home to painters like Howard Pyle, N.C. Wyeth, and Andrew Wyeth, its history was certainly intertwined with that of American art. The Brandywine River Museum has done a fine job selling itself as the First Church of Delaware Valley Realism and enhancing the myth of Brandywine River as a seat of not just Realism but also of the Real.
As a teenager, I had visited the Brandywine River Museum, and when pressed to write a paper for an art class, I chose to write about the work of Maxfield Parrish, the prolific American illustrator whose work is featured there. I was enchanted by his technical method, which employed multilayer transparencies and unusual materials, but my teacher disputed that his stuff was really "art" and undoubtedly had wished I'd chosen to write about Picasso or Millet — somebody "real."
With the news of the death of Andrew Wyeth, the whole question of whether the Brandywine River school really produced "art" is back in the news again. The Metropolitan Museum of Art in New York refused to show his "Helga" paintings on the grounds that they were not, or at least weren't very good.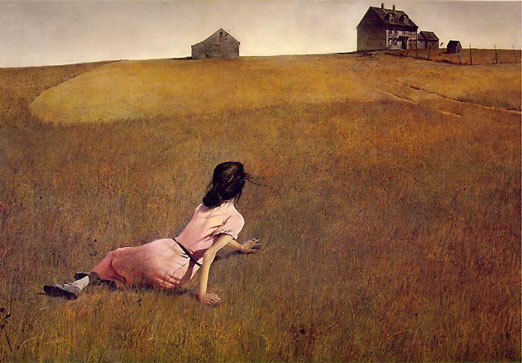 The Museum of Modern Art keeps Andrew Wyeth's most famous work Christina's World (1949) in a back corner, and it's always fun to watch people discover its presence. They stumble upon it, and are surprised at how it moves them. As an icon, they are completely ready for it to be trite and clichéd, but in person it still seems to catch people up.
Art purists would say that the only valid art is work that's done for art's sake alone: without guile, without intention to build an audience, without regard to populism. Arguably, only art that fits this definition can advance what's been done before it in the same vein: populism and intellectual progress usually don't mix.
However, another definition of art is any work that conveys emotion, and on this score, the Wyeths and the Brandywine River School perform well enough to merit attention. That 200 million people can name Wyeth as one of their favorite artists shows his communication has been effective, however invented or populist it may be.
The intersection between art, populism, and commerce is an interesting place to poke around. Here are the seams of our culture, where values, money, and progress bang up against each other.
The Brandywine River Museum touts the artistic authenticity of an invented place, and the Wyeths, Pyle, and Parrish are all promoted as invented artists, designed to insure the flow of tourist dollars into Chadds Ford and Kennett Square — beautiful places, to be sure, and if you squint you can convince yourself the place conveys the feelings the art is trying to make you feel — especially at this time of year, when the browns, greys, white and cold look and feel just like a Wyeth landscape.
But in the end, that's a leap of faith on the part of the viewer. Sometimes art requires the viewer to become complicit in its own invention.