Having just returned from the Le Web conference in Paris and having once again thoroughly enjoyed their Velib' municipal bike-sharing system, I continue to be inspired to do as much as possible via bicycle.
I try to bike as a form of functional transportation, not just for exercise. If you start to think about biking as a way of getting around, a lot of the dysfunctional design of our cities and suburbs becomes evident.
Today our family was faced with the task of obtaining a Christmas tree, and wanting to get out for a bike ride I immediately thought this was something we could accomplish via bike. This summer when I attended TED Global in Oxford, I flew to Heathrow airport with my bike and then rode from there to Oxford (about 50 miles) with a 30 pound pack on my back. So a Christmas tree (20 pounds?) over 5 miles seemed no problem in comparison.
So this afternoon our family biked to a local produce stand and purchased a tree. We put it into a US Army standard-issue duffle and secured that to my back using cargo straps.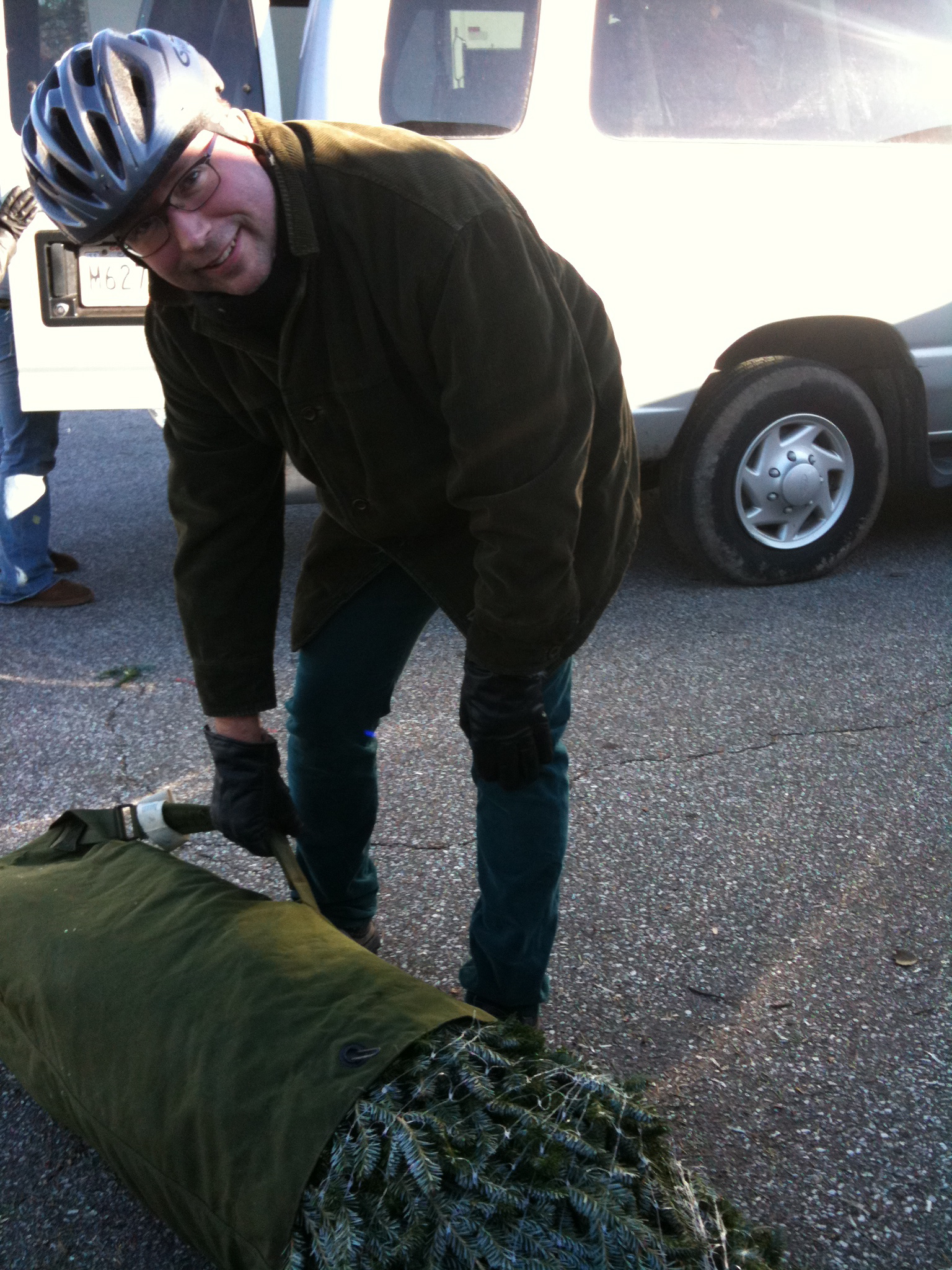 Here's me in my fully mobile glory: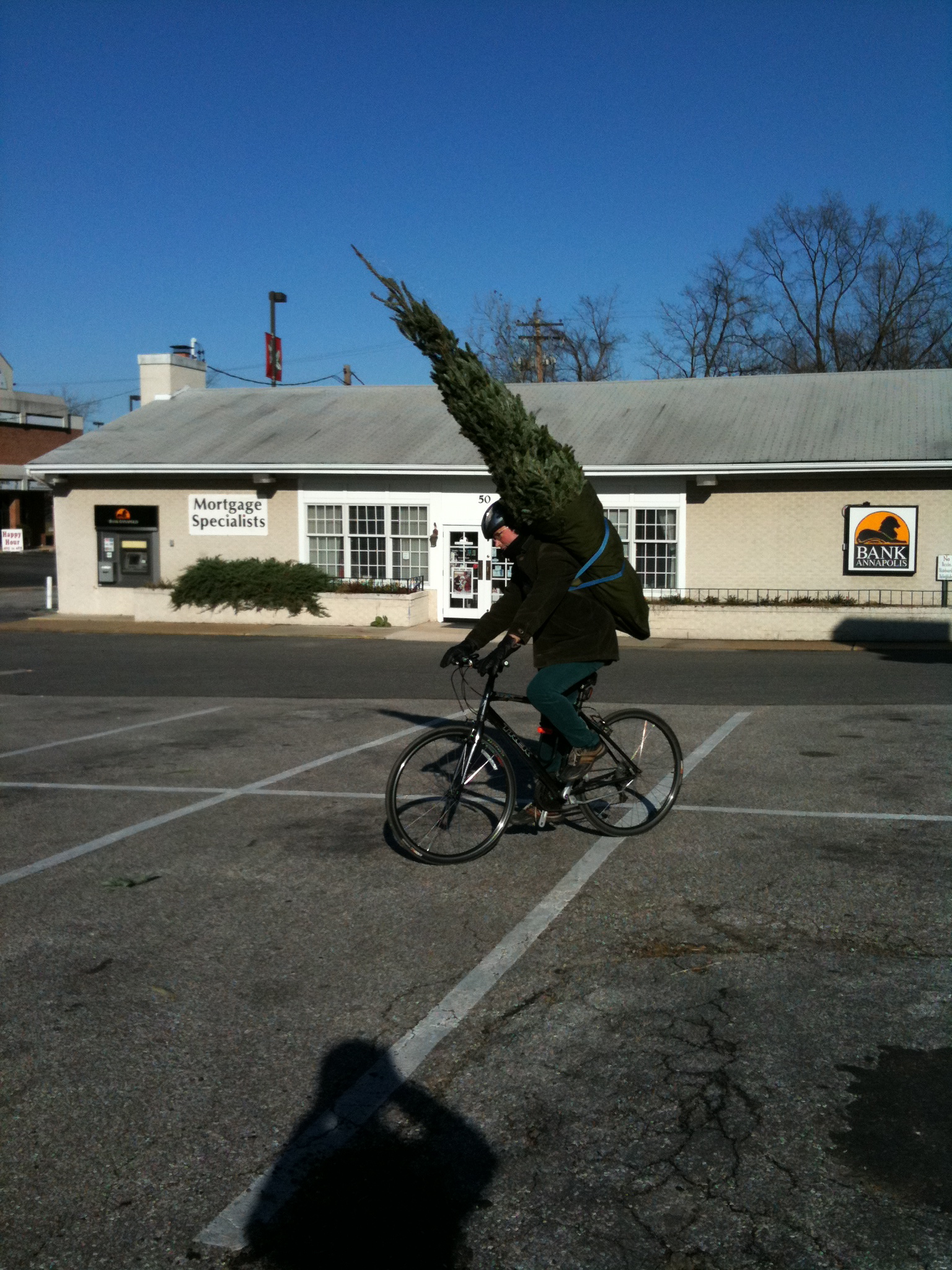 And here, on the Baltimore-Annapolis Trail: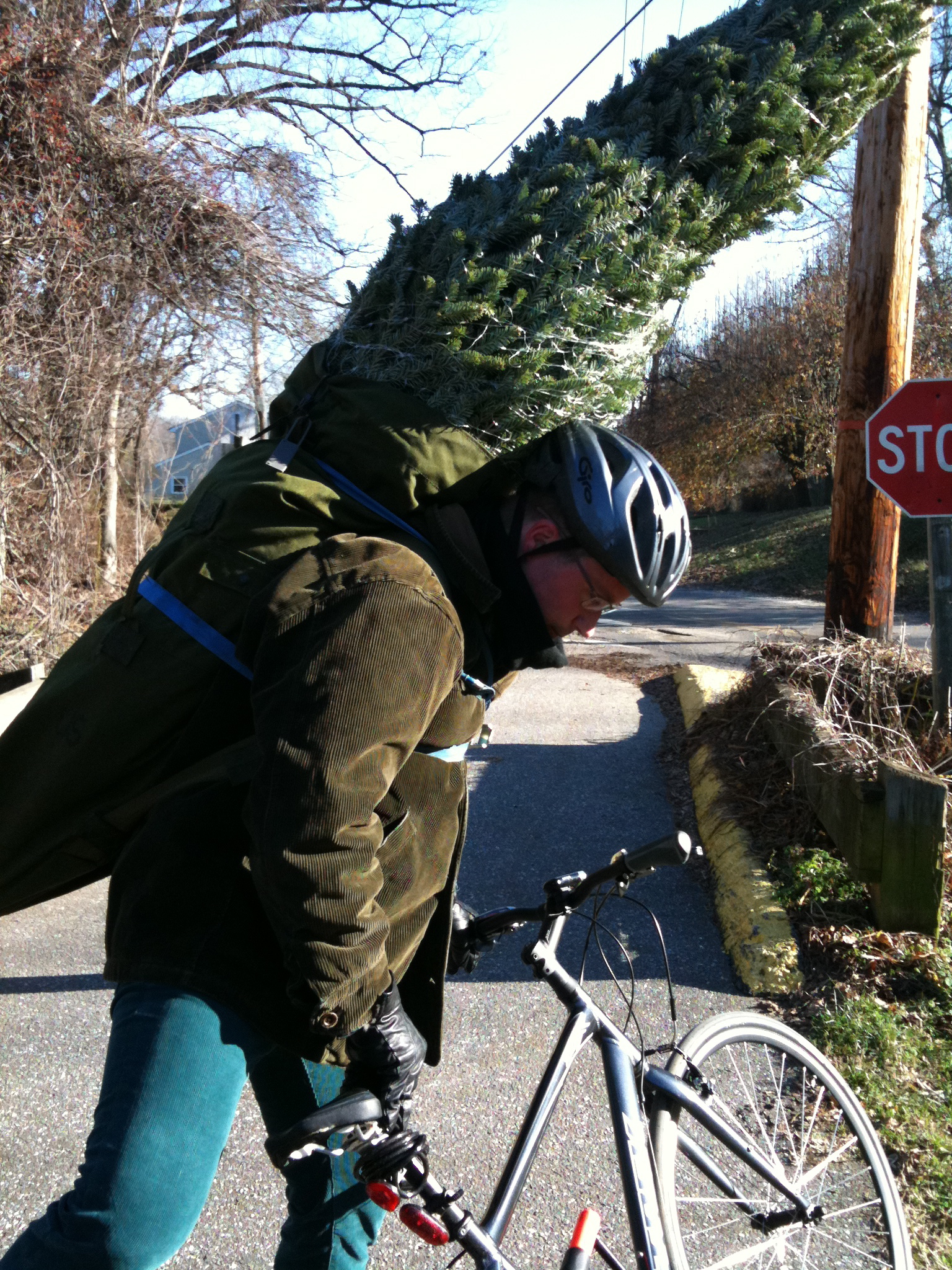 This crazy getup evoked smiles all the way around. Many people said, "You've just made my day." It was about a 30 minute trip home, and somehow a clichéd act of holiday duty had been transformed into something joyful.
I just wanted to take a few moments to reflect on 2009 and express my gratitude for an amazing year:
The wonderful community we have discovered and built up at Beehive Baltimore (February-present)
My old friends at Twitter and at AngelConf + Y Combinator, Silicon Valley (March)
New friends + allies exploring the future of journalism in Baltimore (April)
New friends and compatriots in Buenos Aires, Argentina (April)
Jared Goralnick and his amazing Bootstrap Maryland event (May)
Aaron Brazell, Jimmy Gardner and WordCamp Mid-Atlantic (May)
Brady Forrest, Ryan Sarver, Anselm Hook, Andrew Turner at Where 2.0 and WhereCamp (May)
Barcamp Baltimore (June)
Micah Sifry and Andrew Raisej at Personal Democracy Forum + Transparency Camp (June)
Dave McClure, Christine Lu, and the Geeks On a Plane #goap gang (June)
Great new #goap Friends in Tokyo, Beijing, and Shanghai (June)
Christine Lu, Chris Anderson, Lara Stein, Salome Heusel and the TEDx team (June)
An Amazing experience at TED Global in Oxford (July)
Winning Innovator of the Year Award from The Daily Record (October)
Winning the Connector award from Greater Baltimore Tech Council (October)
The entire TEDxMidAtlantic Team (August-November)
An AMAZING life-changing event: TEDxMidAtlantic (November)
New friends at Le Web in Paris (December)
It has been an incredible year. If you follow your heart, anything is possible. Don't let anyone tell you something can't be done. Strap a Christmas tree to your back if you want to. It'll work.
Do good work, my friends, and get ready for an amazing 2010. We need each other.
Best wishes for a safe and happy holiday season, from my family to yours.