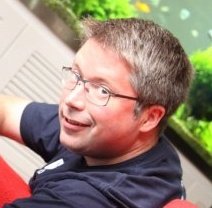 I am a serial entrepreneur with over 25 years experience in technology and design based in Baltimore, Maryland. If you're here, it's undoubtedly because our paths have crossed at a recent event or online. Welcome!
I won't bore you with a bunch of blah-blah-blah about my company's mission and how you're our perfect customer. Instead I'll bore you with a quick recap of some of my more recent activities.
410Labs (2010-present, co-founder, CEO)
410Labs is focused exclusively on the development of innovative technology products for the web and mobile environments. Founded in partnership with Matt Koll (Chairman), 410 Labs currently employs a team of developers and is located in Baltimore, Maryland. Our products include length-limited email service Shortmail, knowledge-sharing service Replyz, and email-metrics and management service Mailstrom.
BmoreFiber (2010-present, co-organizer)
On February 10, 2010, Google announced plans to consider building fiberoptic network infrastructure in one or more locations in the United States. I worked with a diverse group of volunteers, the office of the Mayor of Baltimore, the Greater Baltimore Committee, and the Economic Alliance of Greater Baltimore to assemble a comprehensive response to Google's Request for Information. This process launched a city-wide conversation about infrastructure, innovation, and how Baltimore can benefit from telecommunications investment. Regardless of what happens with Google, we've started a process that will yield multiple dividends in the future. As part of this initiative, I've also served as a co-chair of the Mayor's Broadband Task Force, along with Don Fry (GBC) and Tom Loveland (Baltimore Google Czar and CEO, Mind Over Machines), which is aimed at implementing a plan for municipally-sponsored broadband in Baltimore, with or without Google's support.
TEDxMidAtlantic, TEDxBaltimore, TEDxOilSpill (2009-present; curator)
TEDxMidAtlantic is a regional conference celebrating the power of ideas to transform society. The first TEDxMidAtlantic event was held in Baltimore, Maryland on November 5, 2009 and featured over 20 speakers and 600 attendees. The event is produced under license from TED and videos from the event are available on the TEDxMidAtlantic website. The next TEDxMidAtlantic event will be held in Washington, DC in Fall 2011. You can become part of the planning process here. TEDxBaltimore events, focused on highlighting the best and brightest in Baltimore, are also planned for 2011. TEDxOilSpill was a special day-long symposium held in June 2010 to focus on the 2010 BP oil Spill in the Gulf of Mexico.
Follow @tedxmidatlantic on Twitter
[Startup Digest] Baltimore (2010-present, co-curator)
A weekly newsletter featuring events relevant to startup entrepreneurs in the Baltimore and DC area. Sign up here.
Create Baltimore (2011, co-organizer)
CreateBaltimore is a participant-created conference for artists, cultural workers, entrepreneurs, and technologists interested in building a creative community in Baltimore. CreateBaltimore is for artists, coders, crafters, curators, designers, entrepreneurs, hackers, connectors, activists, makers, educators, museum staff, performers, tinkerers, writers, and others who want to work together to enrich life in Baltimore. Organized by Scott Burkholder, Andrew Hazlett, J. Buck Jabaily, and Dave Troy, Create Baltimore is an opportunity to find unexpected connections between Baltimore's dynamic arts and tech communities. (January 15, 2011; createbaltimore.org)
Baltimore Angels (2009-present; founder)
A new generation of angel investing comes to Baltimore. If you are a tech entrepreneur or community-minded investor, please be in touch with Baltimore Angels. This is not your father's (or your uncle's) investment group. Our investors are current and cashed-out entrepreneurs who have "done it" and can help other entrepreneurs advance to the next stage. We're looking for entrepreneurs with a strong vision and who are just beyond a friends-and-family round. We meet bimonthly in Baltimore and welcome interested investors and entrepreneurs in the Baltimore/Washington area.
Follow @baltimoreangels on Twitter
Beehive Baltimore (2008-present; founder)
Coworking is a collaborative, shared work environment for technologists, artists, and entrepreneurs. With the rise of the knowledge economy and information technology, more folks are working at home — and losing their minds.  Not only are our dogs poor conversationalists, teleworkers also need to share and maintain best practices. Beehive Baltimore is part of the larger coworking movement that is taking root all around the world. By participating in a collaborative community of professionals, new opportunities emerge and relationships lead to new business and new ideas. With a shared office space at ETC Canton in Baltimore, Maryland, Beehive Baltimore is leading the charge for coworking in the greater Baltimore/Washington area.
Follow @bhivebmore on Twitter
Follow @davetroy on Twitter
SocialDevCamp East (2008; founder and co-organizer)
SocialDevCamp East is an unconference-style gathering first held in Baltimore, Maryland in May 2008 to gather the brightest minds in social media software development from the major east-coast markets, from Washington to Boston.  The event was a huge success and repeated with even bigger numbers in November 2008.
Follow @socialdevcamp on Twitter
Twitter Vote Report; Inauguration Report (2008-2009; chief architect)
Working with National Public Radio, CBS News, and several other partners, these two projects enabled citizen journalism efforts for both the 2008 Presidential Election (November 4) and the 2009 Presidential Inauguration. Together, over 50,000 individual reports from sources like Twitter, iPhone and Android apps, Flickr, Youtube, Email, and SMS enabled an incredibly rich first-hand view of these events. The open-source platform has been designed to be adaptable as a general citizen-sensing journalism platform and could be used for everything from news gathering to election monitoring. I served as the lead information architect on these projects and plan to continue to develop these concepts.
Twittervision; Flickrvision (2007-present; designer)
Twittervision began as an experiment to map and visualize traffic on the popular social messaging system, Twitter. Flickrvision maps live traffic to the popular photo sharing site Flickr. Both projects were featured in the 2008 exhibition "Design and the Elastic Mind" at the Museum of Modern Art in New York (February-May 2008). These projects have led to advisory roles in several similar projects, and have also been shown in other art exhibitions and conferences around the world.
Follow @twittervision on Twitter
Roundhouse Technologies (2008-2009; founder)
The confluence of high-power mobile computing platforms with social networks and location-based technologies has enabled whole new categories of products and services. Roundhouse is dedicated to realizing fun, compelling ideas in this space, and partnering with others who want to do the same. With expertise in iPhone, Android, geographic information and all manner of perverse web technologies, we want to build products that are stunningly beautiful, useful, and fun to use. My partner and co-founder is Stephen Muirhead (Absolute Quality; Microprose; Fisher-Price).
Current Boards and Groups
Class of 2011, The LEADERship (Greater Baltimore Committee)
Board of Directors, Live Baltimore (2010-present)
Leaderhip Council, Open Society Institute, Baltimore (2010-present)
Charter Member of "Geeks on a Plane" (2009, 2010, 2011, 2012) sponsored by 500 Startups (Mountain View, CA) – Trip Connecting Silicon Valley/US tech entrepreneurs to Tokyo, Beijing, Shanghai, Singapore, and Seoul; Also South America (Sao Paulo, Rio De Janeiro, Buenos Aires, Santiago)
Board of Directors, Greater Baltimore Technology Council (2004-2012)
President, Friends of the Maryland State Archives (2005-present)
Recent Awards and Recognition
SmartCEO, Circle of Excellence, Serial Entrepreneurship, 2012
Baltimore Business Journal, Power 20, 2010
Chesapeake Regional Technology Council, Legends Circle, 2010
Daily Record Influential Marylander, 2010
University of Baltimore Distinguished Entrepreneur, 2010
Greater Baltimore Tech Council, BETA 2.0 Award Nominee, 2010
Daily Record (Baltimore), Innovator of the Year, 2009
Greater Baltimore Tech Council, Connector of the Year, 2009
Other Recent Boards and Groups
Board of Directors, Chesapeake Regional Technology Council (1997-2010)
Executive Roundtable, Greater Baltimore Technology Council (2002-2010)
Strategic Advisory Committee, Greater Baltimore Technology Council (2008-2010)
Social Media Committee, Chesapeake Regional Technology Council (2008-2010)
Not bored yet? Then learn more about David Troy's background!